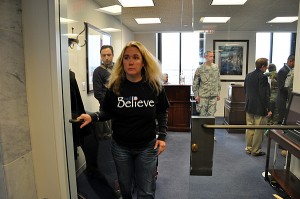 The rest of Nevada's political punditry has taken no interest whatsoever, but this has been quite a week for Sen. Harry Reid's relationship with the gay and lesbian community. I got dirty looks from a couple of local reporters at Reid's post-election press conference on Nov. 3 for quizzing the re-elected Senate Majority Leader on a timetable for repeal of the military's ban on gays serving openly in the military, but then those activists
who shut down the Strip
to traffic in July held a bit of
a demonstration in Reid's D.C. office
on Monday as well. (That, above right, is Robin McGehee of
GetEqual
at Reid's office, photo courtesy of the Washington Blade.)
Didn't read about any of that in your local newspaper or e-mail newsletter, didja?
And now, today, a consortium of Nevada GLBT leaders sent this letter below, prodding him to get Don't Ask Don't Tell repeal to the floor for a vote. Reid has said he will, but it's refreshing to finally see Nevada activists actually, finally get into the act of pressuring their own guy. What a shame he'll never stand for re-election in the state again and all, but hey:
Dear Senator Reid,
A very narrow window exists during the post-election session of Congress in which swift and decisive leadership must be displayed in order to secure successful repeal of "Don't Ask, Don't Tell" (DADT). With all of the hard work that you have done to get this repeal as far as it has progressed thus far, it would be simply unacceptable for Congress not to get a chance to repeal DADT before the 111th Congress concludes its term.
As Senate Majority Leader, you control whether, when, and how bills are brought before the full Senate chamber. As a strong and principled supporter of ending the discriminatory DADT policy, you have the power to see that DADT gets acted upon in the lame duck session. We, therefore, ask you, the Senate Majority Leader, to oppose any effort to strip language repealing the "Don't Ask, Don't Tell" (DADT) policy from the National Defense Authorization Act (NDAA).
The current language in the Senate Armed Services Committee-approved version of the NDAA offers important and overdue protections for servicewomen and military dependents, as well as provides those service members who are lesbian, gay or bisexual the opportunity to serve their country with honesty and integrity. Time is of the essence with ensuring that DADT is not removed from NDAA. We have the votes to end DADT this year. Now we must see more strong leadership from you, Senator Reid.
We know that you are committed to ending the dangerous and discriminatory policy that is DADT. We know that you are one to keep your promises, and we fully expect NDAA to be brought back up before you recess for Thanksgiving. We know you will follow through on your commitment to our LGBTQ community and our military here in Nevada, and across the nation, by ensuring that the DADT repeal provision is not excluded when NDAA is brought forward for a vote.
Sincerely,
STATE SENATOR DAVID PARKS (D-NV)
ROBERTA LANGE CHAIRWOMAN CLARK COUNTY DEMOCRATIC PARTY
CANDICE NICHOLS DIRECTOR OF THE GAY & LESBIAN CENTER OF SOUTHERN NEVADA
AMERICAN CIVIL LIBERTIES UNION
EQUALITY NEVADA
GLSEN
LAMBA BUSINESS ASSOCIATION
LV EQUALITY
NEVADA STONEWALL DEMOCRATIC CAUCUS
PARENTS AND FRIENDS OF LESBIANS AND GAYS / CARSON, NEVADA REGION
PROGRESSIVE LEADERSHIP ALLIANCE OF NEVADA
PROGRESS NOW NEVADA
SI SE PUEDE LATINO DEMOCRATIC CAUCUS
STAND OUT FOR EQUALITY
STONEWALL DEMOCRATS OF SOUTHERN NEVADA
STONEWALL DEMOCRATS OF NORTHERN NEVADA
VETERAN & STUDENT ALLIES
Jonathan Abbinett
Ronald Ramsey
Conroe Brooks
Loretta Harper
Jennifer Webb
Christopher Mendez-Preciado
Marcos Penaloza
Adriana Felix
Robert Cavazos
James Lee
Edith Byrd