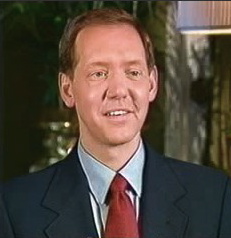 So I'm in the press room at the Rio today charging my computer while covering the liberal blogger confab called
Netroots Nation
for AOL News and I listen in as Fox News interviews DailyKos contributor
Dante Atkins
. He has some things to say that are germane for the tack I'm planning to take -- and, in fact, he makes the bold prediction that the Democrats will PICK UP seats in this fall's election.
When he's done on camera, I ask him to sit with me for an interview. He does. When we're finished, Fox News correspondent Carl Cameron immediately strikes up a conversation with Atkins about some of what he had said on camera.
The rest is what you can read on
TheDailyBeast.Com right now
, comments in which he tacitly agrees with Atkins' claim that conservative Fox News personalities essentially created the Tea Party Movement, Cameron's raising the Shirley Sherrod drama as an example of an effort by some at Fox to influence the news and about his remark that Nevada Senate candidate Sharron Angle.
AOL News passed on this bit, so I moved on to pitch it elsewhere and The Daily Beast grabbed it eagerly. I emailed Fox's spokeswoman for comment and got a response that Cameron claimed I had taken his comments completely out of context. When Cameron reached me, he claimed all he was doing was sticking up for the integrity of Fox's news division. Evidently at the expense of the rest of the schedule.
Thing is, Atkins, the blogger, was there, too, and not only backed up accuracy of the quotes but the context in which I wrote them. And Cameron claimed first that I didn't hear the whole thing and then that it only lasted maybe 40 seconds, and Atkins said it lasted at least 4 minutes. I thought it was even longer, but OK.
Now, those of you who follow this blog know I'm not new to analyzing and reporting on the media. I routinely defend
the Review-Journal
against charges of conservative bias in its news pages, I've taken journalists to task at the
Las Vegas Sun
,
The New York Times
,
the Philadelphia Inquirer
, the
Wall Street Journal
and elsewhere. I've appeared on KNPR and several TV stations discussing media matters as an analyst. In this case, I don't even know if I believe what Cameron said was inappropriate because I don't actually have a problem with reporters expressing certain types of opinions.
But I did know it was news. And so did Cameron, which is why he moved the conversation with Atkins out of the room and away from my observation.
You may wonder if it's ethical or appropriate to report on overheard conversations. Journalists do it every day. It is not necessary to be a party to a discussion to find its contents newsworthy, but as you can read in the piece, I became a party to this conversation and Cameron began it while I was still interacting with Atkins. Plus, he said stuff about his own news organization within earshot of journalists, and there were others in the room, though I don't know who they are or what they heard.
Also, Cameron hasn't questioned whether I should have been listening or even whether the quotes themselves are accurate. He just has an elaborate explanation for what he was really saying that makes little logical sense. He chose to raise the Sherrod matter and he offered the snark about Angle. If there was some deeper, more complex point of view he hoped to express, he didn't express it in this discussion.
He also complained to me that I wasn't being fair with him because I was refuting his version of events. The good news is, I was there. I heard it. I'm not taking stories from witnesses and reconciling them as journalists normally must. So when he gives his version and it is so clearly different than what I witnessed and what the other person in the conversation had to say, I am comfortable saying that Cameron is either misremembering or being deceptive. If I wasn't there, then I certainly would be dutibound to assume his version was as likely and valid as Atkins'. In this case, that's not necessary.
Will be interesting to see where this one goes and if Atkins offers up his version of the situation on his considerable forum on Daily Kos.
As an aside, I have defended Fox's news division as well. I went to college with Brett Baier and think the world of his work. Just as with the R-J, the opinion shows and the news shows are usually significantly different and differently managed. I haven't seen Cameron much, but I suspect he's a fair reporter who strives to be accurate and balanced. Then again, he did try to rewrite an entire conversation that two other people bore witness to, so now I'm not so sure.