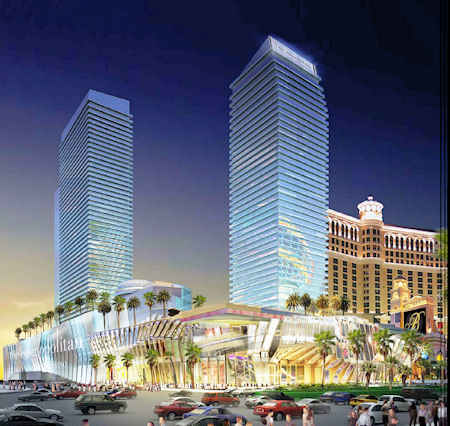 Gaming analyst Bill Lerner of Union Gaming believes the soon-to-open Cosmo adding 2,000 rooms to the city could cause room rates to RISE. Uh, what? So I did a Portfolio.Com blog looking at that weird idea a little closer:
A Las Vegas Analyst's Odd Prediction
It has become incontrovertible conventional wisdom that Las Vegas is overbuilt and that several large projects came to fruition at exactly the wrong time. The city boasts nearly 149,000 hotel rooms, of which 11,000 were added since the recession really took hold in fall 2008 thanks mainly to the openings of Wynn Resorts' Encore tower, MGM Resorts' CityCenter and two expansions at the Hard Rock Hotel.
Yet late 2010 brings another debut, the $3.5 billion Cosmopolitan of Las Vegas, a hotel and casino project owned by Deutsche Bank. In mid-December, Cosmo plans to dump another 2,000 of its eventual stock of 2,995 rooms onto the flailing, bargain-basement Strip immediately north of the struggling CityCenter.
Which is why Union Gaming analyst Bill Lerner's July 1 email blast made eyes fall out of their sockets. "Cosmopolitan, we're not so concerned about Las Vegas Impact."
Huh?
Could it be that he figures things are just so bad that they can't really get any worse? How could yet another wad of rooms, especially those squeezed between the Bellagio and Aria (CityCenter's main hotel), not have a negative impact?
It's very, very difficult to decipher Lerner's logic, and after saying he'd try to call Portfolio back, he did not. But Lerner's note is yet another example of him crossing swords publicly with another analyst, this time Shaun Kelley of Bank of America Merrill Lynch. Kelley issued a June 30 report calling Cosmo "the largest negative for CityCenter and MGM as the market is clearly struggling to absorb" the 6,000 rooms added by the six-month-old $8.5 billion project.
Lerner refers in his missive to his comments being a reaction to "a competitor" and acknowledged to Portfolio that Kelley is his unnamed spar partner. And Lerner does, in his note, acknowledge there's an oversupply in the market and even parenthetically notes that "one additional room is too much."
Yet Lerner writes that room rates at the Cosmopolitan—the resort's website is asking for $275 for opening weekend, well above the current average luxury Vegas room of about $200—could "have an odd, unintended impact on the market as it could pull rates UP (not DOWN as we think was implied in this competitor's research report.)"
Lerner never actually explains how or why that would happen. His best bet is a fantasy, that "if operators theoretically colluded and took rates higher, we're not sure demand would be negatively impacted of note." Right, because Steve Wynn, Jim Murren and Sheldon Adelson, none of whom even like one another all that much, are seriously going to make such a pact. The SEC would just love that.