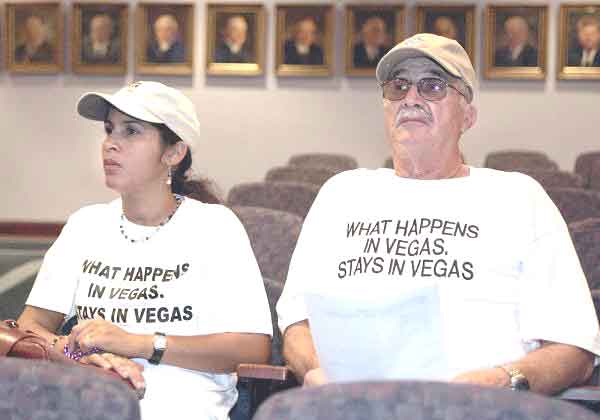 Jeff Candido, co-author of the "What Happens Here Stays Here" campaign,
was on "The Strip" tonight.
He since left R&R Partners in Vegas for Arnold International, a large Boston-based ad firm. Asked about Mayor Oscar Goodman's comment that the LVCVA ought to stop trying to legally fight the misuse of WHHSH,
which it has spent more than $720,000 battling over, Candido answered:
"I sort of have to agree (with Goodman). Why stop people from saying something that you were dying to get them to say five years ago. Why sue them to stop? As much as it sort of irks me to know there are plenty of people out there making money as evidenced by my eBay search this afternoon off the phrase, it's hard to defend spending people's tax money to attack it. I'd say let it go. Let it do what it's doing because it's working."


He also agreed it makes his skin crawl how incorrectly so many comics, hacks and other entrepreneurs apply the catch-phrase.
Also on the show, Las Vegas Hilton headliner Joe Piscopo who was surprisingly funny, energetic and honest. Hear it by clicking
here
or right-clicking
here
or subscribe to it
in iTunes
or
in Yahoo
.